We are seeing a year-on-year increase in demand for our artificial green wall panels which can be used to create vertical gardens inside or outside a home, workplace, or business. Recent coverage in magazines such as Livingetc and Dream Gardens are helping to increase the popularity of the green walls.  Livingetc magazine stated in a recent article that green walls are likely to be one of the biggest interior design trends in 2021.
This upsurge could be due to a number of reasons including the fact that biophilic design is trending and the colour green is getting its moment in the popularity contests. Biophilic design suggests that humans love nature and want to connect with it so the idea is to bring nature into the built environment.
Odette Walden, Director at Green as Grass says, "We know that green wall panels are trending as we have seen a spike in sales in the last six months.  This has been seen in a variety of different interior and exterior projects we have recently worked on including outdoor bars, hotel lobbies, gym refurbishments, and homeowner's gardens. We can only see it increasing throughout the summer.  We are all spending more time at home and therefore are looking to improve our living spaces.  Whilst businesses plan to refurb their work environments for customers and staff alike."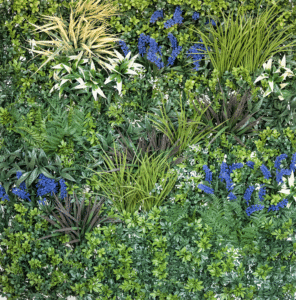 Here are Odette's top five benefits for installing a vertical garden at your home or business:
1. LOW MAINTENANCE
These products are low maintenance for a variety of reasons.  Primarily, you are going to have more leisure time as there is no need for watering, weeding, deadheading, or pruning!  The panels are durable and weather resistant.  Our products are UV protected to keep them looking pristine all year round and with the UK's lack of sunshine, it is not easy for living walls to grow.  One of the main benefits of choosing artificial over living walls is that you would have no need for an irrigation system.  Many business owners opt for artificial green wall panels because they won't fade, don't need watering, they're fire retardant, and are incredibly low maintenance. And unlike a real living wall, there are no ongoing costs for maintenance and no need for chemicals and water.
2. VERSATILE
Green walls can cover up unappealing backgrounds such as brick walls, fences or panels and can be arranged in a myriad of different ways.  Frame them as wall art, create shapes or clad an entire wall.  Unlike living green walls, these replica plants need no water, no special lighting, and virtually no maintenance.  You can even install them yourself.  You can transform a plain dull dark unappealing wall into a tropical oasis.

3. BOOST WELLBEING
There are now many studies that suggest artificial plants can have the same benefit on mental health as real ones.  Creating calmness at home or in a work environment, even boosting productivity and engagement.  It is such an uncertain time, anything we can do to gain a sense of calmness can only be a good thing.  Incorporating nature into your overall business designs will be very appealing to customers and staff.
It is even good for your health – just looking at something green can decrease your heart rate and alleviate stress.  The National Institute for Health and Care Excellence even prescribes a walk in a landscaped space for those suffering from mental illness.
4. REDUCES NOISE LEVELS
The artificial green wall panels act as a natural sound buffer.  They actually absorb sound which is useful in large open plan offices with the added advantage of being pleasing to the eye.  The panels can also help create a relaxing dining experience in a restaurant or café.
5. STRIKING BACKDROP
Green walls are very aesthetically pleasing adding texture and dimension to previously dull areas.  Artificial plants and flowers are getting better and better and at Green as Grass we only supply the highest quality and most realistic looking products to create a stunning backdrop to your home, garden, office, or workplace.  We can dramatically transform any outdoor area, giving your next project instant appeal.
Find out more
Give us a call and we can help you with your next project.
Get in touch
Here at Green as Grass, we are able to design and install artificial green wall panels for any type of business or home. We can help to advise you on the best type of artificial walls to use for your space and needs. To learn more about how we can help you, simply get in touch with us today.
You may also find these articles helpful:
Benefits of fire retardant and UV resistant artificial plants