Garden makeover ideas
Are you thinking of giving your garden a bit of an overhaul ready for the summer months? In this blog, you will find some ideas for your garden whether you are thinking of changing the whole area or just looking to make a few improvements!
Artificial Grass
Artificial grass is an option for those looking for a low maintenance easy solution for your family garden.  Giving your outdoor space a new lease of life and looking good all year round!  As well as being pet-friendly, it is also UV protected. And as you won't need a lawnmower or edge trimmer, it means you might even be able to create more space in your garden by getting rid of your shed!  Find out more in this blog where we compare artificial grass with real grass.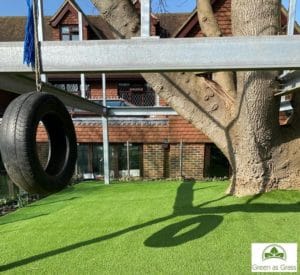 Pots and Planters
Using a variety of different sized pots and planters is a great way to dress your garden, porch, terrace, or patio.  From modern to country styles, you can embellish your space in any way you like as there are so many colours and sizes available online or on the High Street.  If you get a pot made of fiberstone, fiberclay, polystone, or plastic; these can survive the outside elements at any time of year!  Click here for our pots and planters.
Decking
Composite decking is proving to be very popular due to being weather-resistant, durable and available in a large variety of colours.  It is a low maintenance choice as it is stain resistant, easy to clean and it won't splinter or rot.
Composite deck boards are made from a mixture of wood fibres and plastic resin, moulded to create a much harder-wearing and longer-lasting decking board.  The result is an incredibly robust finish, capable of daily wear, without the regular maintenance requirement associated with traditional wood decking.  As the product is moulded, the wood polymer composite provides a fantastic slip-resistant surface that offers either a natural-looking wood grain, or grooved plank finish.  Click here for some decking colour ideas.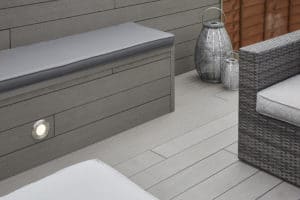 Artificial Green Walls
Artificial green wall panels can be arranged in a myriad of different ways.  Frame them as wall art, create shapes or clad an entire wall.  Unlike living green walls, these replica plants need no water, no special lighting, and virtually no maintenance.  You can even install them yourself.  You can transform a plain dull dark unappealing wall into a tropical oasis.  Wall panels can dramatically transform any outdoor area, giving your next project instant appeal. The main benefits of installing an artificial green wall are:
Durable and weather-resistant – With the UK's lack of sunshine, it is not easy for living walls to grow.
Versatile – Green walls can cover up unappealing backgrounds such as brick walls, fences or panels.
Low maintenance – No watering, weeding, deadheading, or pruning. Find out more here.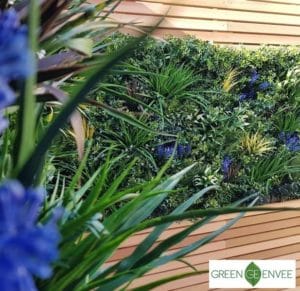 Faux Plants
Not green-fingered?  Have you considered using faux plants outside?  These are a perfect low maintenance decorating solution that can improve an outdoor area in an instance!  They will not fade, they will not dry out, they will still look good in winter!
Find out more
Give us a call and we can help you with your next garden project.
Get in touch
Contact the Green as Grass team for a quote. We can send you some free grass or decking samples so you can see and feel the quality of our products.
You may also find these articles helpful:
Which is the best artificial turf for me