Are you thinking of getting artificial grass for your property this year? In this article, we are discussing the pros of artificial grass vs real grass.
Do you want a low maintenance garden?
Artificial grass is a maintenance free option. You don't need a lawnmower or edge trimmer for starters!
No mowing, no feeding, no weed killing, no trimming, no mud patches.
The only maintenance you will need to do is a little sweep to remove any loose debris. Artificial grass will last for decades and will have no ongoing costs to maintain the lawn. You will even save on your water bill!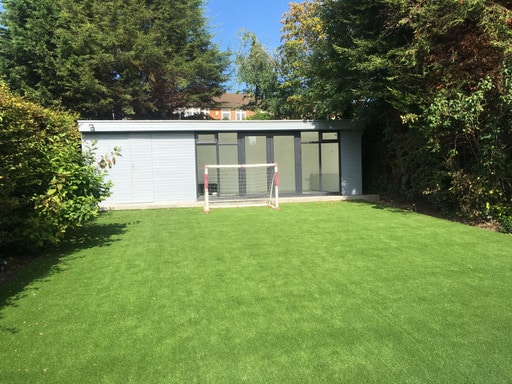 Are you fed up with constantly weeding?
The artificial lawn will continually look green and lush. There certainly won't be any weeding to do! Neglected gardens can look unsightly with overgrown weeds and dead patches, not to mention variations in colour.
With very little effort, you can have a luxuriant, maincured looking lawn year after year throughout every season. Our high-quality grass looks so realistic, you might not even be able to tell it is fake!
Do you want less mess traipsed through the house?
When it rains, there can be a lot of churned up dirt from the kids and pets playing on it. Just think – no more mud trails in your home from children or pets once artificial grass is installed! There are lots more reasons why artificial turf is great for dogs, click here for all the details.
Are you looking for a more durable option?
Artificial grass is very durable and robust so it is often used in areas with high footfall as it just bounces back even after ball games and activities are played on the grass. Our artificial grass is perfect for outdoor play areas as the grade we supply can even cushion falls as the surface absorbs impact and creates a non-slip safety surface. Our artificial grass can easily be cleaned by using a disinfectant.
Do you have a shady garden?
With gardens full of shade from houses or trees, it can be tricky to keep real grass looking good across the whole area. This is where artificial grass can step in and keep your lawn looking consistently green.
Would you like to avoid using chemicals in your garden?
It is difficult to keep real grass looking fresh without a little help from chemicals. The moment you install artificial grass, you will have no need for the use of chemicals again! Our fake grass does not contain any metals or toxic components.
Check out our case studies for some inspiration
An unloved and underused garden in London, with the owners having no time for maintenance, was transformed using our artificial grass turning it into a frequently used outdoor space!
Or the use of our artificial grass at a large property in Bedfordshire, to create a stunning green vista in a shaded front garden covered by a large tree. Check out more case studies here.
Odette Waldon, Green as Grass owner says, "In my opinion, artificial grass has so many reasons why it is becoming more and more popular. Gone are the days of the green grocer artificial grass. Some of the products on the market are so realistic and more importantly low maintenance. If installed well, it will look amazing 365 days of the year. Since lockdown, our sales have increased as homeowners have realised they need to utilise their outside space more.
Once you have had artificial grass, you are more likely to purchase it again if you move into another property. It is a little bit like a dishwasher! Once you have this product you will immediately see the benefits; cosmetically and also the saving time element too!"
Find out more
You can order any size from us and we can even organise the installation for you whether it's a private small grassed area of a home in Bedfordshire, a design project at a public sector building in London, a school playground in Hertfordshire or a sensory room in a kids' bedroom! We can even help you design a balcony or roof terrace garden.
Give us a call and we can talk you through all of the benefits of installing artificial grass for your next project. Click here to find out more about our artificial lawn installation service.
If you are planning a full garden refurbishment in 2021, we can even help with installing our new composite decking and high quality faux green wall panels, plants and foliage offered by Green Envee.
Get in touch
Contact the Green as Grass team for a quote. We can send you some free samples so you can see and feel the quality of our product.
You may also find these articles helpful:
Which is the best artificial turf for me
What to expect from your new artificial grass lawn