Do you run a pub, bar, or restaurant? Are you getting your establishment ready for outside drinking and dining in the coming months?  We can help!  In this article, we are discussing the benefits of using artificial grass for outside areas. Create a great first impression and transform any outdoor space with our artificial grass.
From April 12th 2021, bars and restaurants can reopen for outside dining.  You can brighten up any area whether it's under a marquee, dull concrete paving or you now need to rethink your outside space and utilise your car park. Now is the time to work on standing out from your competitors.
Why use artificial grass outside?
You will have enough to do with all of the prep needed for the reopening of your venue.  Tick one thing off your list by installing artificial grass in your outdoor area. You could transform unused areas into a beer garden or dining area.  This is easily done with artificial grass.
Artificial grass is extremely low maintenance, saving you time and money ongoing plus it is very durable and often used in areas where there is high footfall.  Not to mention how realistic it looks now!
Artificial grass will also work well in outdoor play areas at your venue.  There will be no more mud patches or customers traipsing their muddy boots into your premises creating more work for your staff.  It looks good all year round and given the current situation, the artificial grass can be cleaned with a disinfectant. Peace of mind that you are providing a clean, safe environment for your customers.  You could even brighten up the front of your venue using artificial grass, this will be sure to give your pub or restaurant instant kerb appeal.
Using artificial grass in your commercial space
Now is the time to start thinking of how to improve your outdoor dining experience to encourage your customers to return time and time again. Dining al fresco is big business for the upcoming spring and summer months and with artificial grass, you can always ensure the area is party-ready!
Provide your customers with an outdoor area that will always look lush and welcoming.  So even when you place dining tables and chairs on it, you will not need to worry about grassy areas dying from no sunlight or having to move the furniture just to mow the lawn.  And at the end of the evening, you can give the grass a quick hose, vacuum, or brush and the area is ready for the next day.
Did we mention artificial grass has drainage holes? Artificial grass allows liquids to drain through the grass.  Spilled drinks are common in drinking and dining venues and having a lawn that can handle this is important to pubs and restaurants.  There will also be no standing water to sort!
Artificial grass can disguise ugly concrete areas
It's a quick fix to transform outside areas that you now need to utilise to encourage more customers to visit your bar or restaurant.  Cover up those unsightly stains on the concrete with our product. Easy, simple solution!
Our Boston artificial grass would be the perfect choice for bars and restaurants, this realistic-looking sward is just 20mm deep but still feels soft and lifelike. It's a smart buy alternative lawn that doesn't skimp on the quality. Our precise manufacturing process means that the faux grass blades are firmly attached to the backing which means no moulting and fantastic durability. Boston is UV protected so won't fade or discolour in the sunlight.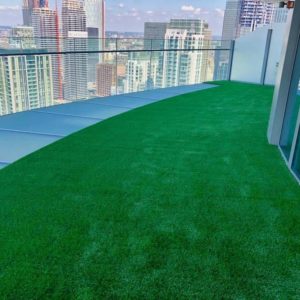 The use of artificial green walls in an outside space
You could even finish off your pub or restaurant refurb by installing artificial green wall panels.  Therefore, you could turn your dark, unappealing walls in to a tropical oasis!
Artificial green walls are now a huge part of exterior designs. As a result, many business owners now opt for artificial green wall panels because they won't fade, don't need watering, are visually appealing, and incredibly low maintenance.  In conclusion, green wall panels are so versatile; you can improve a courtyard, create a backdrop perfect for photo opportunities and change plain fencing into a showstopper outdoor space.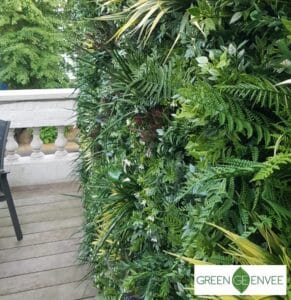 Using artificial grass for private use
Don't forget about your own private outdoor space too! There are so many benefits as to why artificial grass is a great choice for homeowners.  It can be used all year round for starters with no mowing, no weeding, and no muddy patches to contend with!
When we can start socialising with other households in our gardens, whatever the time of year, you can rest assured the grass will look great. Create a lovely environment for your guests to sit, relax and enjoy the occasion.  All without getting muddy boots and looking at unsightly weeds.
Find out more
You can order any size from us and we can even organise the installation for you whether it's a pub garden in Bedfordshire or a rooftop bar in London.
Give us a call and we can talk you through all of the benefits of installing artificial grass in your outdoor space.  Click here to find out more about our artificial lawn installation service.
We can also help with installing composite decking and faux green wall panels, plants, and foliage offered by Green Envee.
Get in touch
Contact the Green as Grass team for a quote and to arrange a site visit.  We can send you some free samples so you can see and feel the quality of our product.
You may also find these articles helpful:
Artificial grass vs real grass
Which is the best artificial turf for me
How long does artificial turf last